NovaLift Equipment Inc. offers extensive material handling equipment financing solutions and options on all forklifts and floor cleaning equipment, including walkies, counterbalance lifts, cherry pickers, floor scrubbers, and more. Financing is an excellent solution for businesses that require material handling or floor cleaning equipment to fulfill their regular operations, but also need to preserve capital for other aspects of their business.
With financing, you still have the option of entering into a short- or long-term rental agreement or purchasing the equipment at the end of the finance term.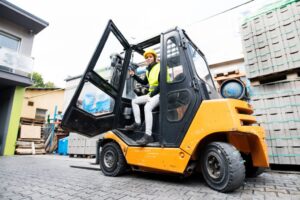 Why Financing Your Material Handling Equipment Is a Good Idea?
There are a lot of reasons why you should consider financing your material handling and floor cleaning equipment.
Helps Manage Cash Flow
Forklift financing is a cost-effective solution that makes it easier for you to manage your business' cash flow and allocate funds towards various aspects of your company. Whether that means making structural improvements, promoting employees, offering better benefits packages, hiring new employees, expanding your business, or allocating more funds on marketing; the possibilities are endless.
Significant Tax Savings
Depending on your business' profit margins and current tax bracket, financing equipment could lead to significant tax breaks and savings for your company, which can further improve your cash flow management practices. Speak to your accountant or small business financial advisor for information about your specific corporate finances.
Financing Is Convenient
Financing material handling and floor cleaning equipment means you get quick and easy access to it almost immediately. After the equipment has been thoroughly inspected and has passed all safety protocol tests, you're free to use it for your specified applications. Since the safety inspections, maintenance, and repairs are all included in the finance agreement, you don't have to pay extra for this.
Flexibility
As your business continues to grow and technological advancements are inevitable, your material handling and floor cleaning equipment needs are going to change over time as well. Financing instead of purchasing equipment gives you the flexibility to switch out outdated pieces of machinery as you see fit and meet the evolving needs of your business as new technology becomes available.
Purchasing Power
Financing equipment also gives you the ability to purchase the machinery once the finance term has ended, if you decide that's the best course of action for your business. If you choose to go this route, NovaLift Equipment Inc. will still provide future maintenance and repair services as needed.
Equipment We Provide for Financing
NovaLift Equipment Inc. provides the following equipment with financing arrangements:
Counterbalance lifts
Walkie pallet trucks
Cherry/order pickers
Dockstockers
The Financing Process at NovaLift Equipment Inc.
We can finance any equipment we provide at very competitive lease or finance rates. Also, depending on the age of the equipment being financed, we can provide financing terms from 24 months to 72 months with no money down. For more information on our financing options, please contact us.