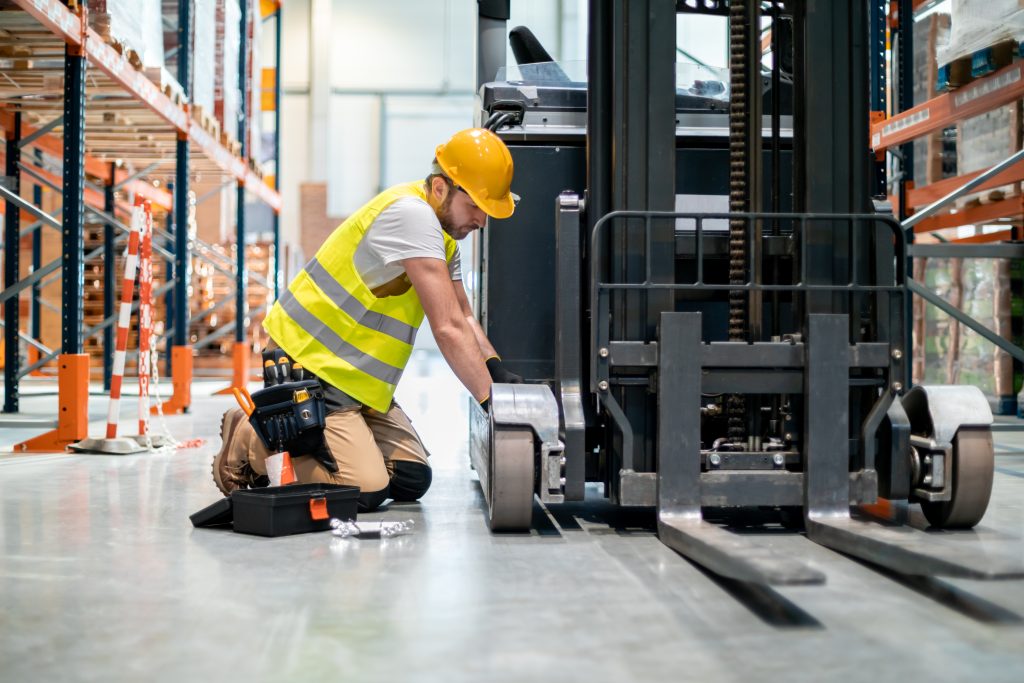 Routine forklift maintenance including winterization is an effective way to help keep your material handling equipment safely functional for a longer period of time. There are many different types of forklifts and they each require specific care and maintenance to maximize their efficiency, longevity, and performance. 
Winter elements such as cold temperatures, snow, ice, and even strong winds can have a negative impact on the performance quality of your forklift and diminish its overall lifespan. Each forklift manufacturer typically divulges specific care and maintenance instructions to help keep your machines up and running smoothly during the winter months, so be sure to check your owner's manual for winterization information before use or storage. 
Barring that, you can also consult a qualified forklift dealer in Toronto if you have any questions about a specific make or model. Here are some maintenance tips.
Check the Engine and Hydraulics 
Hydraulics are the moving components of your forklift engine that enable the machine to move the forks up and down with ease during the material handling process. It's important to make sure the hydraulic system is well lubricated at all times during the winter months as the cold temperatures can make them stiff and brittle. A stiff engine and hydraulic system poses the risk of cracking under pressure when you try to use them. Hydraulic fluid can also congeal if left in the system for too long, leading to system blockages that prevent the forklift from functioning properly. Check the engine and hydraulic fluid levels consistently to make sure they're at the appropriate levels and haven't hardened. 
Charge the Battery 
Battery power and lifespan depletes significantly faster in colder temperatures than in mild or moderate climates. Inspect your forklift's charging system for defects. If it's all clear and in good condition, be sure to fully charge your forklift so that you can maximize its operating power. 
Check the Cooling System/Antifreeze 
Use a good quality hydrometer to check the coolant and antifreeze levels in your forklift. If you just recently refilled the fluids and you're getting a low reading, then you may want to inspect your forklift for damages such as cracks, leaks, or broken components. Repair or replace any components such as hoses, tubes, or connectors that are showing signs of damage or wear and tear. Neglecting to perform this type of maintenance can cause further damages and diminish the efficiency, performance, and longevity of your machine.
Evaluate the Functionality of the Lights 
Shorter daylight hours in the winter create dangerously low visibility conditions for forklift operators and their coworkers, especially when working in warehouses, on loading docks, or outdoors. Forklifts require ample lighting conditions all year round, but winter conditions are particularly harsh. If you have an older forklift that uses halogen or incandescent light bulbs, be sure to switch them out for LEDs this winter. LEDs are not only better for the environment, but they also last longer, are more energy efficient, luminous, and affordable than traditional lights. Test the lights on your forklift routinely, ideally before and after each shift to make sure that the bulbs are properly screwed in and that they're all working correctly. 
While you're at it, you should also clean the headlights on the forklift to remove dust, stuck-on particles, and dirt.
Inspect and Prepare the Tires for Winter 
Just like your vehicle, the tires on your forklift need to be aptly prepared for winter weather conditions. For pneumatic tire forklifts, start by checking the air pressure in each tire using a pressure gauge. Your forklift owner's manual should indicate the appropriate air pressure for the tires in your machine. If you notice air escaping quickly from one of the tires, then that means there's a hole or slit. Locate the damaged area, patch it up, and replenish the air pressure to the correct level. If the damage is too large to repair, then you can look into professional forklift maintenance in Toronto to replace the tire for you. 
After checking the air pressure, inspect the tread on the bottom of the tires to make sure that the grooves aren't completely smoothed out. If they are, then it may be time to purchase new tires for your forklift. Alternatively, you can also fit the existing tires with snow chains to enhance its driveability in slippery, wet, and snowy conditions. Clear out all obstacles such as fallen or misplaced objects or machinery and remove snow and ice from high-traffic pathways. Some forklifts have additional snow removal attachments that you can purchase to push snow off to the side as you drive through it. 
Check the Fuel Levels 
Forklifts tend to consume larger amounts of fuel within the first half hour of operation. During this time, the engine is just starting to warm up and this temporarily lowers the fuel efficiency of your machine. In the winter, the warm up time may be a little longer as the frigid temperatures can freeze up the internal components of your forklift. Always be sure to give the engine a few minutes to fully warm up before use and be sure to make sure that you have enough fuel to get you through your work day before driving the forklift. Top up the fuel levels if they're low, otherwise your engine will have to work twice as hard to function normally and this will cause it to wear down faster.
Conduct Routine Forklift Safety Inspections 
Routine forklift safety inspections should be commonplace in every single warehouse, distribution center, or retail store. Thorough forklift inspections are mandated by Ontario's Ministry of Labour. The onus is on the business owner or employer to ensure that all forklift operators receive complete ongoing material handling equipment safety training and adhere to the regulations that are laid out by the ministry. These regulations include following basic safety instructions and performing routine inspections to identify missing or damaged components that require immediate repair, maintenance, or replacement for safe forklift operation.
Schedule an Appointment for Forklift Maintenance in Ontario 
If you've been searching for "forklift rental near me" or "forklifts in Toronto", then you're in luck. NovaLift Equipment Inc. is one of the leading forklift dealers in Toronto and the GTA. We offer a variety of makes and models of new and used forklifts for rent or for purchase. We also offer extensive forklift safety training and certification courses to businesses and individuals in Ontario. Our team of technicians also specializes in extensive forklift maintenance and repair to guarantee complete customer satisfaction. Contact us today to learn more about our services.
Published on