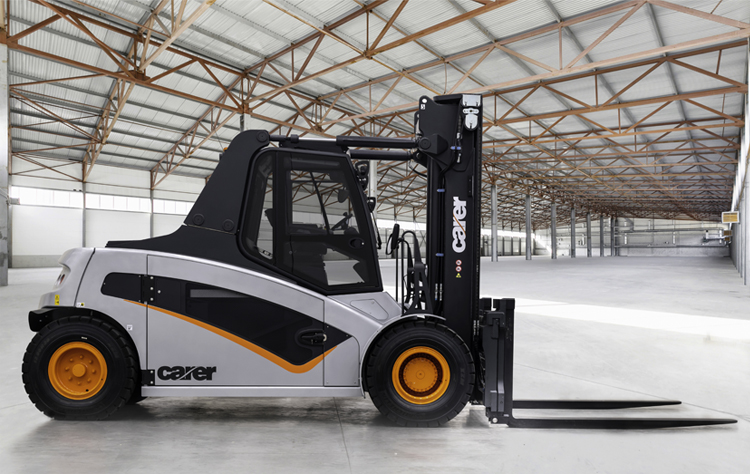 The future of material handling is here. The new Carer electric forklift with capacities from 16 to 20 tons is now able to directly compete for performance and autonomy with diesel machines.
For over 40 years, Carer has established itself internationally by designing, developing, and producing exclusively electric forklift trucks, and today it is ready for a new revolution in logistics. This epic shift in the material handling industry is aligned with global economic trends and confirms a transformation has been taking place for several years. It is an opinion shared by industry leaders that electric forklift trucks will inevitably replace internal combustion machines in all aspects of the material handling world.
By dominating the market with its high capacity electric forklifts, Carer can offer innovative solutions such as the AX series with capacities up to 20 tons, something that up until now were only available in the 8-12-ton range.
The new Carer A160-200 @ 1200X electric forklifts are extremely powerful machines. They have been specifically designed to replace internal combustion trucks in a multitude of applications where molds, containers, and large loads are handled, and where electric solutions had never previously been considered. The unique specifications coupled with its electric profile position it as the leading contender in challenging outdoor applications such as lumber facilities, steel mills, ports, cement factories, and the handling of heavy materials such as prefabricated buildings.
The notable performance features of the new A160-200 @ 1200X are its acceleration and travel speeds (20 km / h), accompanied by its long operating ranges. This new model can run through an entire shift, while maintaining speed and lift performance comparable to that of a diesel truck.
These results are guaranteed using 1720 Ah batteries with a 144 Volt operating system, a combination used for the first time on an electric forklift. Furthermore, this model is available with a lithium iron phosphate power solution. This ensures up to a 20% increase in efficiency, significantly longer run times, reduces the amount of time batteries need to be charged, and requires no maintenance.
The high performance of the Carer A160-200 @ 1200X electric forklift has been achieved without sacrificing standards in terms of ergonomics, comfort, or safety, by ensuring that:
The dimensions of the trucks remain compact, allowing them to maneuver in narrow and confined environments, while continuing to maintain high capacities.
The driver's seat is spacious, comfortable, and offers a wide view in all directions, eliminating blind spots that the operators would otherwise need to contend with.
The cabin is fully equipped, including heating and air conditioning, to guarantee comfortable working conditions for operators, and increasing operational efficiency.
When compared to diesel machines there is a guarantee for greater comfort and safety for operators and a significant reduction in vibrations and noise thanks to the elimination of harmful emissions.
A key aspect that must be considered is the considerable reduction in operating costs, guaranteed by the new Carer A160-200 @ 1200X electric trucks. The economic benefits are evident both from the standpoint of fuel costs savings and in relation to the lowered maintenance costs. In electric forklifts, there are significantly fewer moving parts. This decreases the frequency of intervals necessary for checking or replacing worn components when compared to an internal combustion machine.
The reduction in its carbon footprint is also a milestone regarding its environmental impact. This helps meet the green initiatives of most companies, which must comply with strict anti-pollution requirements to meet international regulations.
From the very beginning, Carer has been focused on delivering solutions that meet the needs and requests of their customers. For that reason, customization and tailor-made solutions have always been at the forefront of the Carer philosophy. It is precisely this philosophy that has enabled the company for all these years to respond to application needs in a timely manner.
The new Carer A160-200 @ 1200X electric trucks represent a great distinction in the material handling landscape, and are destined to revolutionize large sectors of logistics by virtue of their specific characteristics:
They are as powerful and efficient as combustion trucks.
They are economically advantageous.
They are safe, guaranteeing a healthy work environment free from emissions, vibrations and noise.
They are green, as they respect the environment.
They can be customized in accordance to the specific needs of international customers.
Published on