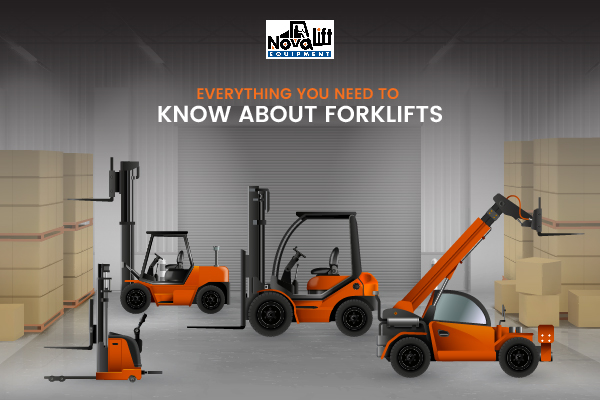 Do you need to move heavy objects in your warehouse? Are you looking for a piece of machinery that can help make the process easier? If so, you may want to consider purchasing a forklift. Forklifts come in many different types, and each one is designed for a specific purpose. In this article, we will discuss the different types of forklifts and their uses. We will also provide information on how to choose the right forklift for your business!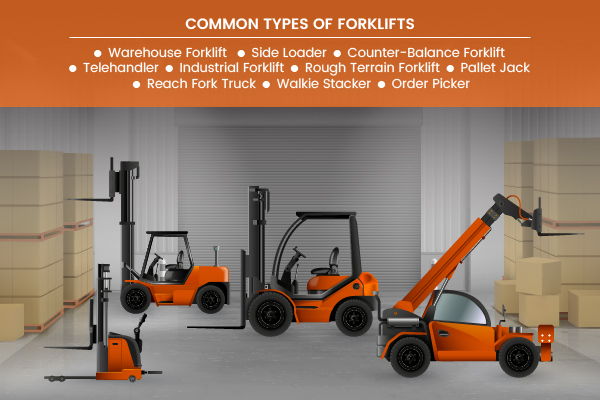 Common Types of Forklifts
There are many different types of forklifts available on the market, each with its own unique benefits. Below are some options to choose from:
Warehouse Forklift: A warehouse forklift is specifically designed for use in warehouses and other indoor storage facilities. Warehouse forklifts are available in a variety of sizes and configurations, making them suitable for a wide range of applications.
Side Loader: This type of forklift is often used in outdoor environments such as construction sites and landscaping businesses. Side loaders are ideal for transporting heavy loads over uneven ground.
Counter-Balance Forklift: For businesses that operate in tight spaces, counter-balance forklifts are an excellent option. These compact forklifts are highly maneuverable and can be operated in very tight quarters.
Telehandler: Telehandlers are similar to cranes, and they can be used to lift heavy loads to great heights.
Industrial Forklift: Industrial forklifts are typically used in manufacturing and production facilities. These rugged forklifts can handle heavy loads and tough working conditions.
Rough Terrain Forklift: Rough terrain forklifts are designed for use in off-road environments, such as logging or mining operations.
Pallet Jack: Pallet jacks are a type of hand-operated forklift that is commonly used in commercial settings such as supermarkets and distribution centers.
Reach Fork Truck: Reach truck forklifts are similar to order pickers, but they have the added benefit of being able to reach high shelves or racks.
Walkie Stacker: Walkie stackers are a type of electric pallet jack. They can be used to help improve productivity in warehouse settings.
Order Picker: Order pickers are a type of electric forklift that is specifically designed for picking orders from shelves or racks
Forklift Classifications
There are also different types of forklift classifications that make them better suited for certain tasks. Here is a quick overview of the most common forklift classifications:
Class I: Electric Motor Rider Trucks. These are typically used for indoor applications, as they produce zero emissions. They are also very quiet, making them ideal for use in noise-sensitive areas.
Class II: Electric Motor Narrow Aisle Forklifts. Designed for use in narrow aisles and tight spaces, they are very maneuverable and have a small turning radius, making them ideal for use in warehouses and other confined areas.
Class III: Electric Motor Hand Trucks. These types of forklifts are designed for use in pedestrian areas and are ideal for use in crowded areas where pedestrians are present.
Class IV: Internal Combustion Cushion Tire Forklifts. Typically used for outdoor applications, they are more durable and can handle rougher terrain than electric motor rider trucks. They also have a larger carrying capacity, making them ideal for use in warehouse and distribution applications.
Class V: Internal Combustion Pneumonic Tire Forklifts. Used for outdoor applications, these forklifts offer a smoother ride on rough terrain than internal combustion cushion tire forklifts.
Class VI: Electric and Internal Combustion Engine Tow Tractors. These types of forklifts are typically used for material handling tasks that require a large carrying capacity. They have an internal combustion engine that allows them to tow trailers and carts behind them.
Class VII: Rough Terrain Forklift Trucks. These forklifts are specially designed to operate on uneven or soft surfaces such as grass or gravel.
Choose NovaLift Equipment Inc. for Forklift Rentals in Toronto or the GTA
There are many different types of forklifts available on the market, each with its own unique benefits. Choosing the right type of forklift for your business can help to improve efficiency and productivity.
If you're looking for a reputable dealer that offers forklifts for rent in Toronto, NovaLift Equipment Inc. is your go-to. Our knowledgeable staff can help you pick out the right type of electric forklift for virtually any industrial job along with high-quality forklift attachments. Contact us today to learn more about our forklift rentals and to see why we are the top forklift dealer in Toronto.
Published on