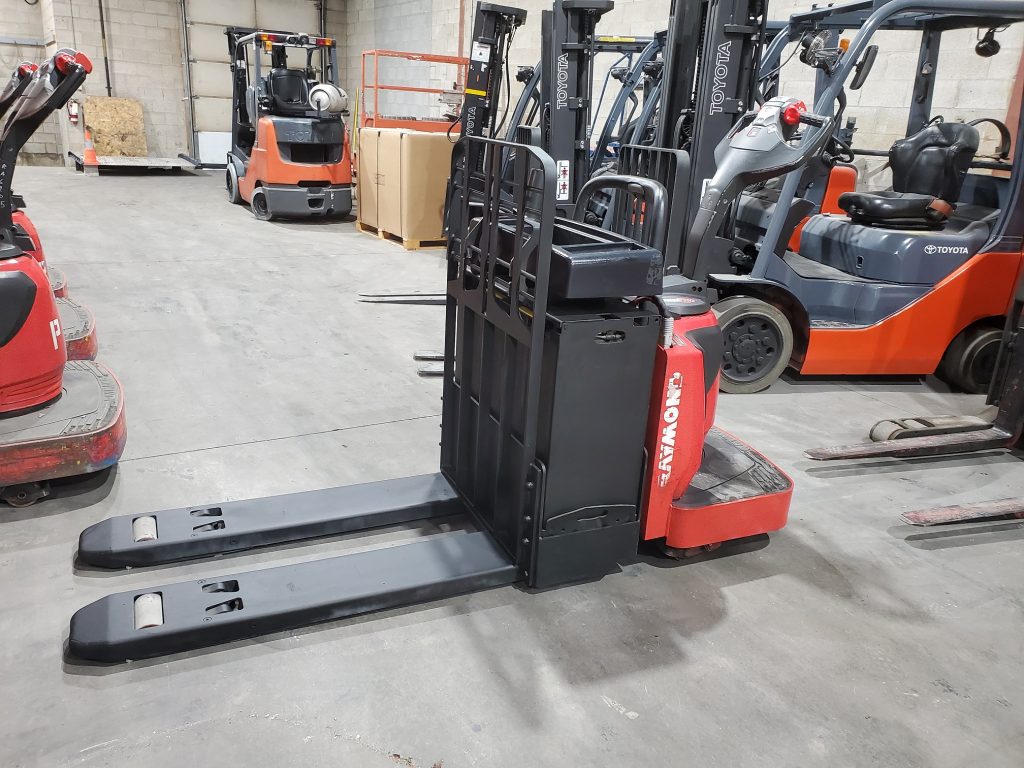 Forklifts are an integral part of warehouse management and material handling. But, since warehouses have limited space and can become more cramped with products, the best way to create additional room is to make aisles more narrow and taller.
This kind of layout can be problematic for regular forklifts, which are best suited for moving heavy objects with minimal heights. Another option is a reach truck. They're designed for lifting lighter materials and objects, reach much higher, and operate in tighter, narrower spaces.
What Are Forklifts?
When it comes to forklifts, the first thing people generally think of are counterbalance forklifts. These forklifts consist of forks in the front, a cab that houses the operator, a counterbalance in the rear, and tires that control steering.
The most well-known and versatile material handling equipment, counterbalance forklifts, are used extensively for lifting, moving, and stacking products, pallets or contained units. Different models of forklifts have various load capacities, but most can handle loads of up to 10,000 lbs.
What Are Reach Trucks?
A reach truck is smaller type of forklift with a narrower body, enhanced mobility and maneuverability, and higher height capacity, which makes them idea for areas with tight, narrow aisles, such as a warehouse. Instead of a counterbalance, reach trucks have two outer legs that stabilize the load. The operator also usually sits sideways or perpendicular to the forks. Some reach trucks also come equipped with a camera, allowing the operator to see what's going on above their head.
Reach trucks are often used in applications such as narrow aisles, cold storage, long-load handling, and truck loading/unloading. Reach trucks usually accommodate smaller load capacities than most counterbalance forklifts. But they also provide much higher height capacity of up to 32 ft.
NovaLift Equipment provides both new and used reach trucks designed for use in the most challenging material handling and warehouse environments. Some of the reach truck brands we carry include Raymond, Yale, Toyota, Crown, and Hyster.
Differences Between Forklifts and Reach Trucks
While there is some functional overlap between reach trucks and forklifts, they also have unique features that make them more ideal for specific tasks.
Visibility: Forklifts are front-facing and have limited visibility when moving large loads. Reach trucks are generally sideways-facing, providing a wider vision range.
Turn Radius: Reach trucks have a much tighter turn radius than forklifts.
Lifting Height: Forklifts are great for lifting heights of up to 20 ft., some reach trucks can lift loads higher than 40 ft.
Weight Capacity: Forklifts and heavy-duty models can handle loads anywhere from 10,000 lbs. to more than 25,000 lbs. Most reach trucks have lift capacities of 3,000 to 5,000 lbs.
Power Sources: Reach trucks, because they are mostly used indoors, are powered by a 36-volt battery. Forklifts use various power sources, including gasoline, diesel, and electric batteries.
How to Operate Reach Trucks?
Operating and stability considerations are largely the same for reach trucks and counterbalance forklifts, with some notable differences, including fork height.
Bring Forks to Level Position: Reach trucks have less forward and back tilt than counterbalance forklifts. The weight should be level, with no forward tilt applied. If tilt is used, it may be impossible to stack a tall load.
Lift Load to the Correct Height: Raise the load to the desired height, ensuring the upward path is clear of any obstacles.
Drive Reach Truck Toward the Stack: Drive the reach truck to the stack with the load fitting on the rack and reach truck legs stopping just short of the rack or bottom load. Once in position, apply the hand break.
Position the Mast on the Rack Lower: Carefully lower the load, making sure the forks are level and clear. One the load is lowered, retract the mast completely. The mast should not be driven when extended. While loaded, the reach truck will behave like a counterbalance forklift and turn over.
Reverse Away From the Stack: Once the load is safely in place and the forks are free, check your surroundings and reverse out.
Lower the Forks to the Travelling Position: After the forks are around 15 centimeters, or 6 inches away from the stack, lower the forks to around 10 centimeters, or 4 inches, off the ground and apply rear tilt for travel.
Contact NovaLift Equipment, Inc. for Reach Trucks & Forklift Rentals in Toronto
To keep up with changing supply chain and customer demand, businesses need forklifts that are adaptable and scalable. NovaLift Equipment, Inc. is home to one of the largest inventories of forklifts in Toronto. Whether you're looking for a small electric forklift, warehouse forklift, reach truck, or rough terrain forklift, NovaLift works with the industry's top brands. Get in touch today to learn more about our forklifts and their accessories.
Published on