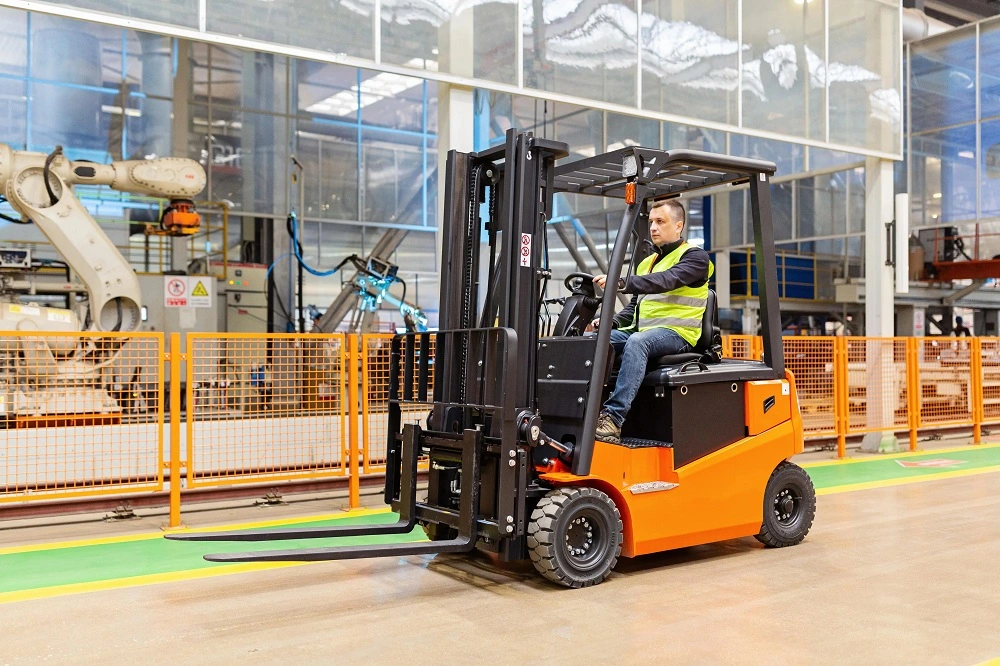 Forklifts are a commonplace in a wide variety of industries, from construction, to manufacturing, shipping, dockyards, and warehouses. They help improve business efficiency, productivity, and performance. For many businesses, the forklift is the backbone to its daily operations.
That said, because forklifts are so big (weighing up to 9,000 pounds) and buzz around a worksite (up to 30 km/h), they can also be dangerous. Fortunately, forklifts only account for one percent of all warehouse or factory accidents, but because of the size and weight of a forklift, the accidents can be extremely serious, accounting for 11% of physical injuries in the workplace.
Here are seven statistics that show why its important to use extreme caution when both using and working near a forklift:
Between 35,000 and 62,000 injuries occur every year involving forklifts
Roughly 75 to 100 workers are killed annually in forklift accidents—this number has increased almost 30% over the last decade
34,900 forklift accidents result in serious injury every year
61,800 non-serious injuries are related to forklift accidents each year
A forklift overturning is the most common mishap, accounting for 25% of all forklift accidents
If companies implemented more stringent training policies, roughly 70% of forklift accidents could be prevented
Pedestrians account for 36% of forklift-related deaths
To help prevent injuries, it's imperative that businesses implement strict safety measures in order to protect the safety of both drivers and nearby workers.
Common Health Risks for Forklift Operators
Between long periods of time sitting in a cramped forklift cab, to craning and twisting your neck, operators can experience a lot of health risks. Fortunately, there are some preventative measures operators can take to minimize the health hazards of driving a forklift.
Back Pain
Poor posture and sitting for long periods of time on a vibrating forklift can results in a wide variety of aches and pains, including aggravated neck and back pain. Operators can minimize neck and back pain by lowering their speed, using an air suspension seat, and the backrest.
Foot Pain
Forklift foot pain can occur depending on how an operator positions their feet. This tends to happen when the feet are turned outward and can strain knee stability and impact the feet, legs, and knees. Try and sit up straight with your feet flat on the floor/pedals facing forward.
Shoulder Pain
To avoid shoulder pain, keep your elbows in while driving. Also, keep your hand out as if you were shaking hands, while operating controls. Stretch regularly and use the arm rest.
Knee Pain
Knee pain is a common health risk and safety hazard for forklift drivers. If you've been standing, take a break and sit down; or, if you've been sitting, walk around for few minutes every hour. When you enter or exit a forklift, use the three points of contact, don't jump!
Musculoskeletal Disorders
Musculoskeletal injuries can result in damage to your muscles, tendons, nerves, discs and more. These forklift injuries can be caused by repetitive movements or quick jerking actions that can damage the muscle tissue. Ignoring these important signs can result in sever pain, reduced movement, and the inability to work.
Hearing Loss
Forklift operators are often exposed to high noise areas on a daily basis. Over time, this could result in hearing loss. If you operate a noisy forklift or work in a loud warehouse environment, use ear protection that selectively blocks frequencies.
Respiratory Issues
Forklifts powered by liquefied petroleum gas (LPG), gasoline, and diesel emit potentially deadly carbon monoxide gas, which can build up indoors without proper ventilation. The scentless gas is impossible to detect without proper equipment. Symptoms of carbon monoxide harm include dizziness, nausea, tired and confused, stomach pain, and shortness of breath and difficulty breathing.
Vision Problems
Working indoors for long stretches at a time under glaring light can lead to eye fatigue and headaches. Working excessively in poor lighting conditions can also result in the increased risk of deep shadows, excessive contrast, and distracting shadows. Too much direct or reflected light can also result in glare.
Fatigue
Forklift operator fatigue can set in pretty quickly, which can lead to mistakes and enhance the risk of accidents. It's important to understand the signs of fatigue and to know when to take a break, such as lack of energy, muscle weakness, and difficulty concentrating.
Preventive Measures for Forklift Operators
It's important for businesses and warehouses that use forklifts to understand what the most common forklift accidents are and how to avoid them.
Invest in proper training and certification for forklift operators. To avoid workplace accidents, forklift driver must be properly trained how to operate them safely and efficiently.
Regularly maintain and inspect forklifts. It's important to implement a vehicle inspection and maintenance plan for forklift operators to follow. This includes checking fluid levels, checking for leaks, testing mast chain tension, checking tire condition, and testing the brakes, steering controls, and other operational items necessary for the proper function of the forklift.
Use of personal protective equipment (PPE). Forklift operators should wear proper PPE, including hard hats, gloves, earplugs, and steel-toes boots/shoes when operating a forklift.
Stretch on occasion. There are simple exercises that operators can do in their forklift, such as stretching their arms behind their back and above their head, bending backward, lifting their knees to their chest, and stretching the calves and quadriceps.
Make ergonomic adjustments to forklifts and workstations. There are a number of things you can do to help make operating a forklift more comfortable such as wear proper footwear, use forklift back support, and adjust the position of steering, hydraulic, and other controls.
Workplace Safety Regulations and Standards
To avoid forklift injuries, operators should take a compressive forklift safety training program.  In Ontario, the Ministry of Labour has specific guidelines when it comes to forklifts in the workplace in order to protect the safety of the drivers and nearby workers.
To operate a forklift, employees must receive certification from Ontario's Occupational Health and Safety Act (OHSA). You can receive a certification that shows you have the skills and knowledge to safely operate a forklift through NovaLift Equipment, Inc.
NovaLift Equipment offers complete onsite, ministry-approved forklift certification training on all material handling equipment, including counterbalance forklifts, electric reach & order-pickers, electric ride-on & walk behind pallet trucks, boom lifts, and scissor lifts.
The eight-hour on-site forklift certification training courses can typically be completed within one day.
In addition to receiving certification, the OSHA requires every forklift operators to renew their certification every three years. NovaLift provides certification courses for new operators, refreshers, and recertifications.
Choose NovaLift Equipment for All Your Forklift Needs
NovaLift Equipment, Inc. is home to one of the largest inventories of forklifts in Toronto. Whether you're looking for a small electric forklift, warehouse forklift, telehandler, or rough terrain forklift, we only work with the industry's top brands. Get in touch today to learn more about our forklifts and their accessories.
Published on