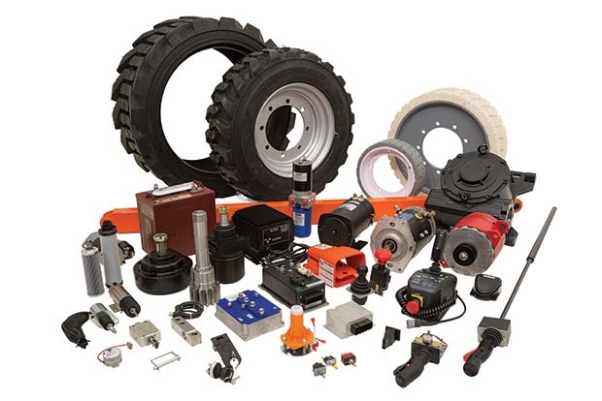 Forklifts are used extensively both indoors and outdoors to load and unload trucks, carry and stack goods, and move items around. With the right attachment, forklifts can also be used to transport people and be used as a sweeper to wet or dry sweep warehouse floors, docks, and parking lots.
The point is forklifts get used a lot. And all that heavy lifting and movement can result in wear and tear that prevents it from operating effectively and efficiently. It can also create an unsafe work environment.
When it comes time to buy spare parts for your forklift, the big question for many is whether to buy genuine original equipment manufacturer (OEM) parts or buy generic parts from a parts supplier.
Genuine forklift parts can be a little more expense than generic or even used forklift parts, but as you'll see, investing in OEM parts is, without question, worth the investment.
Benefits of Choosing OEM or Genuine Parts for Your Forklift
Prevents Damage
The biggest issue with aftermarket or used forklift parts is that you can never guarantee their quality. The upfront cost of aftermarket parts may be lower than OEM forklift parts, but it could end up costing you more in the long run to fix associated damage should the parts not fit properly or cause damage.
Lowers Risk of Downtime and Repair Costs
OEM parts help minimize valuable downtime. Because they are specifically designed for your particular forklift and are tested for performance and durability, the genuine parts will last longer, meaning less breakdowns and downtime. You cannot guarantee the quality of an aftermarket part that was not designed with your particular forklift in mind.
Comes with a Warranty
One great thing about OEM forklift parts is that they are often covered by a warranty. If there's an issue with the original part, it will be replaced. Non-genuine aftermarket parts do not always come with a warranty, which means you could end up paying more for replacement parts should the non-genuine parts not work properly.
Authenticity
OEM or genuine forklift parts are designed to meet the original specifications of your forklift. In fact, OEM parts are designed during the early stages of the development of your forklift and is carefully manufactured to ensure the lift performs the same way it always has.
Availability of Parts
OEM parts manufacturers are known for having a strong distribution network and available stock. This isn't always the case with a generic forklift parts supplier. To lower their overhead, many generic suppliers keep limited stock on hand and only bring it in when necessary.
Overpriced Imitations
Genuine OEM parts are designed by the same people that built your forklift. They're literally designed to fit the forklift perfectly. Some non-genuine forklift parts and accessories can cost the same as those sold by OEM, but you cannot guarantee they are the same quality, use the same materials and design, and come from a facility with the same exacting, high-quality manufacturing standards.
Increases Resale Value
Genuine OEM forklift parts and accessories are fitted by trained technicians which helps keep the warranty valid. It also leaves a record showing you only used OEM products. This guarantees the forklift will be in better working condition, which also helps the forklift maintain its value.
7 Most Common Forklift Replacement Parts
Tires: Forklifts are designed to run for long periods of time, carry heavy loads, and make precise manoeuvres. This results in tires wearing down and needing to be replaced. Non-genuine aftermarket forklift tires can result in load instability, damage the forks and undercarriage components, and operator discomfort. Read more on forklift tires here.
Oil and Air Filter: Air filters make sure that clean oil runs through the engine, keeping dirt and debris from affecting the engine's performance. Dirty oil can increase engine component friction. This is why its important to replace oil and air filters at recommended intervals.
Forklift Chain: Forklift chains wear out over time. If the chain stretches or wears down it should be replaced immediately.
Spark Plugs: Spark plugs are exposed to dirt which can hinder the performance of the engine.
Forklift Battery: The battery is the heart of the forklift. If it's not properly maintained it will need to be replaced sooner than expected. If the forklift battery is losing charge or if the charge doesn't last very long, it needs to be replaced. Related: Why Lithium-Ion Batteries Are The Most Efficient Option For Forklifts
Pedal Pad: Brake and accelerator pedals have rubber pads so that the operator's foot doesn't slip off and cause an accident. To ensure the forklift is safe, replace the rubber pads when they wear down.
Forklift Horn: Forklift horns are an important safety feature on a forklift. Horns are also one of the most common parts that need to be replaced.
NovaLift Equipment, Inc. Supplies Top-Quality Aftermarket or OEM Replacement Parts for Every Make and Model!
NovaLift Equipment, Inc. is home to one of the largest inventories of OEM and aftermarket forklift replacement parts in Toronto. Whether you're running a small electric forklift, warehouse forklift, telehandler, or rough terrain forklift in Toronto, our full range of factory authorized parts will keep your lift up and running. Get in touch today to learn more about our forklifts and their accessories.
Published on