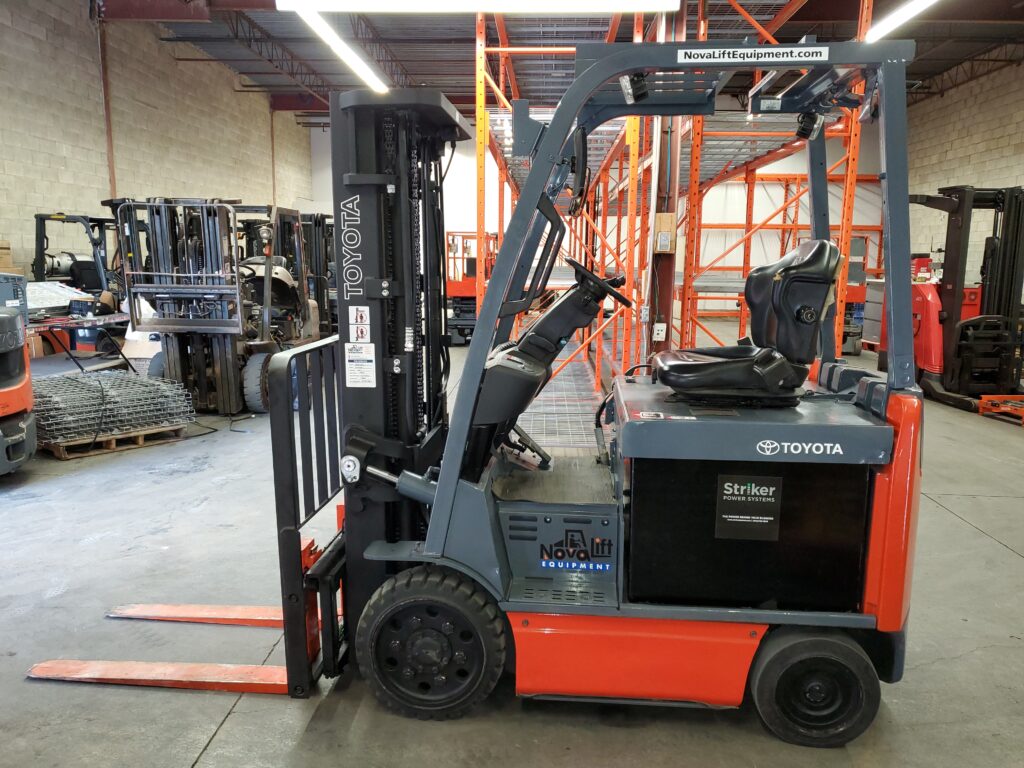 There are a wide variety of forklifts available, each with its own unique advantages and disadvantages. When choosing the right forklift for your material handling needs, it's imperative that you take the forklift fuel option, engine, fuel type, capacity, and lift height into consideration.
Related: How To Choose The Right Forklift Rental For Your Workplace?
Keep reading to learn the pros and cons of internal combustion (IC) or electric engines to determine which type is best suited for your business's needs.
Forklift Fuel Options to Consider When Buying a Forklift
The two primary forklift options are IC forklifts and electric forklifts. IC forklifts can run on different fuel sources, such as compressed natural gas, diesel, and liquid petroleum, but gasoline is the most common.
IC forklifts account for approximately 40% of the market and are typically used outdoors and are designed to operate in difficult terrain, work environments, and inclement weather.
Electric forklifts, which run on a rechargeable electric battery, are the most popular forklift option, capturing 60% of the market. Electric forklifts are usually used indoors, with many warehouses and plants using them to move pallets and other products.
Both IC and electric forklift have their advantages and challenges, which can make them ideal for different work environments.
Electric Forklifts
Pros
Environmentally Friendly: Electric forklifts use a lot less energy and generate less emissions than IC forklifts. Electric forklifts also don't generate dangerous emissions like carbon monoxide, as a result, they're safer for indoor use.
Reduced Long-Term Costs: Electric forklifts have a higher upfront cost than IC forklifts do, but they can save you money over the long run.
Lower Noise Levels: Because they run on electricity, they make less noise than a gas engine does. This makes them the ideal option if noise is a concern.
Enhanced Maneuverability: Electric forklifts are also generally smaller than IC forklifts, which makes them easy to maneuver in tight spaces.
Cons
Long Recharge Time: Electric batteries need to be recharged on a regular basis. And it can take up to 8 hours for some batteries to recharge and additional time for the battery to cool down. Depending on the battery and how it is used, one charge can last anywhere from 3-12 hours. To avoid costly down time, you may need to have multiple batteries and recharge them overnight.
Less Load Capacity: Electric forklifts have around half the load capacity of an IC forklift. If your business requires heavy lifting, an electric forklift may not be the best option.
Battery Maintenance: In addition to needing to be recharged on a regular basis, electric batteries also need to be cleaned and serviced to ensure they are operating at their peak function. On the other hand, unlike IC engines, electric batteries have fewer parts and fluids to maintain. Regularly servicing the battery should provide you with a few years of service.
Weatherproofing: Electric forklifts are used mostly indoors, but they can be used outdoors. Since they run on electrical components, they don't perform well in poor weather conditions. That said, electric forklifts are designed to withstand light to moderate rain. Ask a forklift professional at NovaLift to check the IP code to ensure that it is safe to use outdoors.
Internal Combustion Forklifts
Pros
Lower Cost: The cost of an IC forklift can cost up to 20% less than an electric forklift. If budget is an issue, an IC forklift might be a great option.
Quick Refuelling: From an empty tank to full, it takes a matter of minutes to refuel an IC forklift. That means less down time and the ability to use it day or night or for as long as you need.
Versatility: IC forklifts have a higher load capacity and greater power, which means they are a lot more versatile than electric forklifts. IC forklifts are also known for handling high speeds, ramps, and longer runs. They can also be used in a wide variety of environments, applications, harsh weather, and uneven terrain.
Cons
Higher Maintenance: IC forklifts have a lot more moving parts and fluids than an electric forklift. This results in more frequent maintenance and repairs.
Emissions: IC forklifts release carbon monoxide, which is a dangerous air pollutant. While not ideal for indoor use, if they are used in an enclosed area, ensure there is sufficient ventilation.
Higher Fuel Costs: It doesn't take long to refuel an IC forklift but the long-term costs for gasoline are going to be higher than the cost associated with recharging an electric battery.
Noise: Because IC forklifts can be noisy, they are not the best choice for some work sites.
Choose NovaLift Equipment, Inc. for All Your Forklift Needs
NovaLift Equipment, Inc. is home to one of the largest inventories of IC forklifts and electric forklifts in Toronto. Whether you're looking for a small electric forklift, warehouse forklift, telehandler, or rough terrain forklift, NovaLift only promotes and works with the industry's top brands, including Toyota, Carer, Skyjack, Case, Crown, Nissan, Raymond, Noblelift, CAT, Hyster, JLG, John Deere, Moffett, Omega Lift, Tennant, and Yale. Get in touch today to learn more about our forklifts and their accessories.
Published on