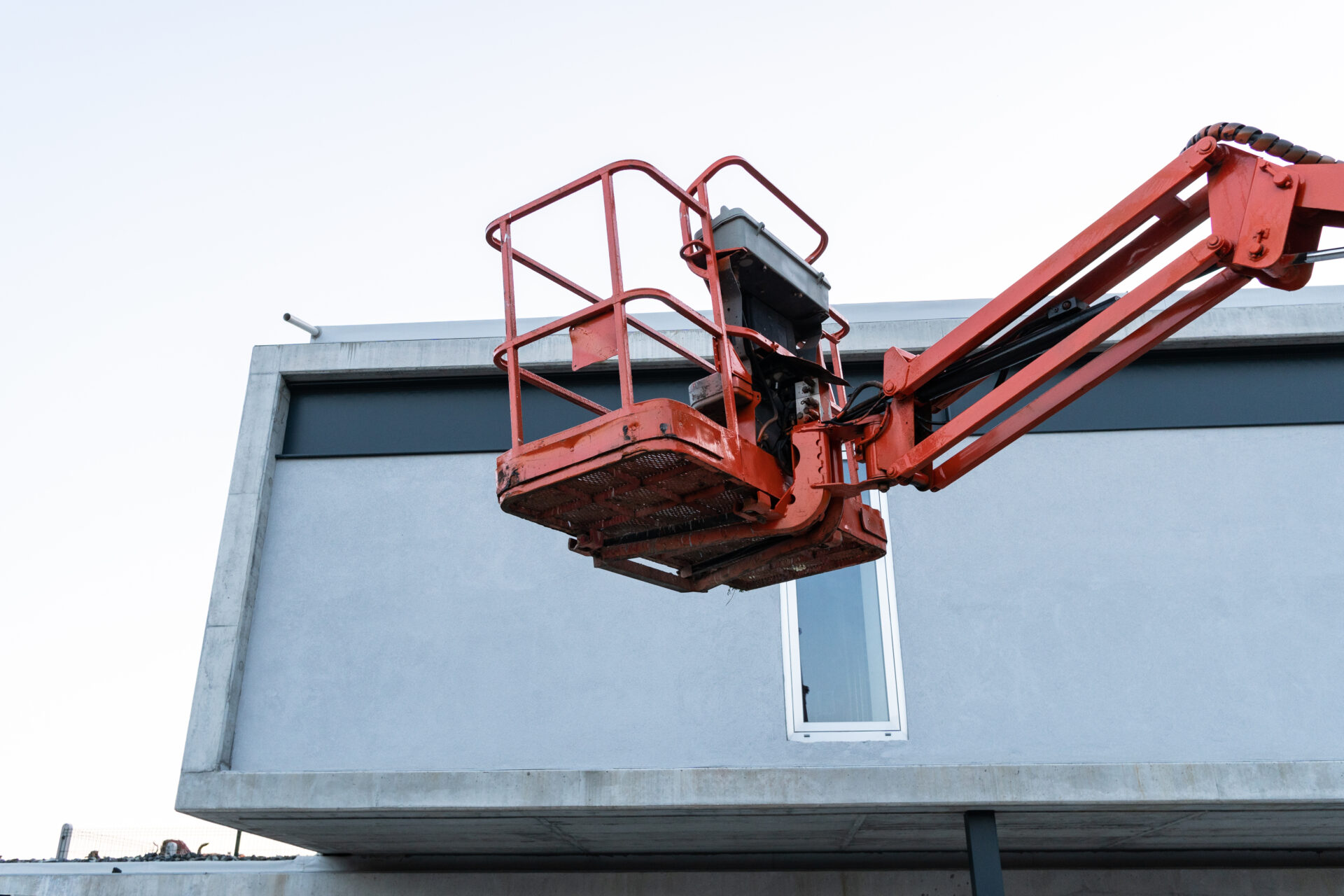 When you mention the word "forklift" most people think of an industrial machine with an operator behind a wheel, lifting or moving pallets with the fork and mast. This makes traditional forklifts ideal for warehouses. There is another class of forklifts, though, that are extremely versatile, and that's that cherry picker forklift.
Cherry pickers can be used in virtually every industry. In addition to being essential for harvesting fruit, cherry pickers are used for high access cleaning jobs, building maintenance, building painting and sign writing, outdoor landscaping, the movie industry, and a lot more.
To get an inside look at cherry picker forklifts and how they work, read this ultimate guide to cherry picker forklifts.
What Is a Forklift Cherry Picker?
With a traditional forklift, the operator sits behind the wheel and moves products with the fork and mast. A cherry picker machine is a mobile forklift that can be lifted to different heights with a bucket at the end of the telescopic boom. And, instead of the operator being behind the wheel on the ground, a cherry picker forklift raises the platform (enclosed basket, etc.), pallet, and operator.
Cherry pickers were first used for harvesting fruit on the upper branches of trees and bushes but have quickly emerged as the go-to equipment for businesses needing to do any kind of aerial work. Compared to other methods, including time consuming scaffolds and ladders, a cherry picker is much safer and more efficient.
Types of Cherry Picker Forklifts
There are a number of different types of cherry picker forklifts, each with its own set of functions.
Scissor Lifts
Scissor lifts use multiple hinges that move in a scissor-like, vertical fashion to expand and contract. The mounted platform, which is on top of the folding arms, can fit through a standard doorway and reach heights of 38 feet.
Boom Lifts
Boom lifts are an aerial platform with a platform on the end of a hydraulic arm. The boom refers to the arm that is controlled by a hydraulic lift and extends vertically and horizontally to carry people and materials to heights up to 200 feet.
Articulating Lifts
Articulating lifts feature multiple movable articulating arms that provide operators great flexibility when moving the platform around the workspace or difficult-to-reach areas. Ideal for narrow confined spaces, articulating lifts can work in heights of up to 20 meters and outreach of 12 metres.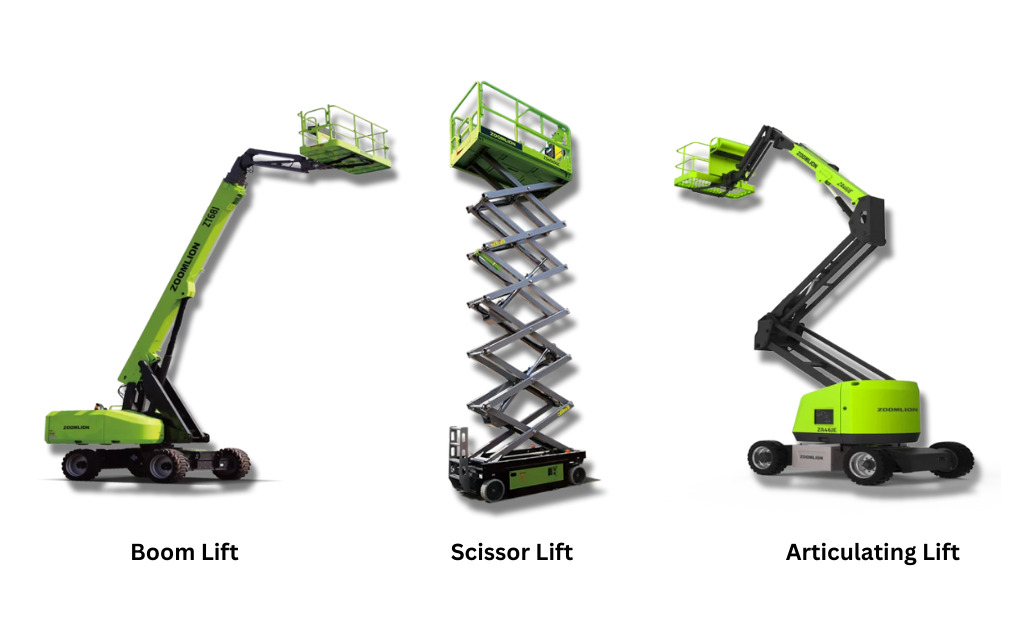 Where Are Cherry Picker Forklifts Used?
Warehouse Cherry Picker: Cherry pickers can be used both indoors and outdoors, making them perfect for warehouses. That's because warehouses generally need pickers and packers to grab orders from great heights.
Construction: Because of their rugged construction and ability to move over rough terrain, they are perfect for construction. And, the telescopic boom, which can be operated without a basket, can be used to transport heavy loads (up to 12,000 pounds), hit impressive heights, and outreach.
Maintenance and Repair: Thanks to their massive reach and ability to go up and across, cherry pickers are great for maintenance, building repair, and painting. Other forms of maintenance can include public structures such as telephone poles, utility poles, or even street lights.
High Access Cleaning Jobs: Cherry pickers are ideal for high access cleaning jobs, allowing the operator to move up and down with ease and easily access cleaning supplies. This can include everything from high pressure window cleaning and sand blasting, and chimney sweeping.
Farming Cherry Pickers: Cherry pickers are, as the name suggests, used for harvesting fruit. They're also used on farms to trim tall trees and provide maintenance on silos, barns, windmills, and other tall farming equipment.
How to Safely Operate a Cherry Picker Forklift?
Pre-Use Inspection
When you buy or rent a heavy-duty cherry picker forklift, its important to do a thorough inspection. A pre-use inspection checklist should include:
Documentation
Wheels
Power source or engine
Cables and hoses
Hydraulic
Stabilizers
Scissor pack, boom, and chassis
Emergency controls
Travel/maneuverability controls
Switches and function controls
Loading and Unloading
Because cherry pickers are able to reach incredible heights and the operator is actually in the elevated platform, workers need to watch for overhead hazards. This includes power lines, trees, bridges, buildings, and other hazards that could get in the way of the safe operation of the cherry picker. While these hazards can damage the cherry pickers, they also pose serous risk to the operator of the basket.
Avoiding Common Accidents
Being aware of some of the most common accidents can help enhance the operator's safety. These can include following safety procedures, checking weather conditions, clearing the ground below the cherry pickers, wearing a safety harness, not exceeding the load limits, and reporting any hazards.
Training and Certification
While any business can buy or rent a cherry picker to operate one, operators need the proper training and certification for the safe and efficient operation of cherry picker forklifts. According to the Occupational Health and Safety Administration (OSHA) of Ontario guidelines, forklift operators must have a license.
Drivers must be over the age of 18 and be recertified at least once every three years. The mandatory training helps reduce workplace injuries and reduces the risk of employer liability.
NovaLift Equipment Inc. offers a wide variety of training and certification sessions that provide business owners and their employees the safety knowledge and material handling skills needed to operate a cherry picker and all other types of forklifts.
NovaLift's comprehensive training programs include:
8-hour onsite forklift training courses that can typically be completed in one day, offered by Safety 1st Forklift Training Inc.
In-class training
Practical training
Courses taught by professional, skilled, and accredited trainers
Contact NovaLift Equipment for All Your Forklift Needs
With over 50 years of industry experience, NovaLift Equipment Inc. is home to one of the largest inventories of forklifts in Toronto. Our factory-trained technicians have the knowledge and the experience to help you find the forklift that is best for your business and service all your equipment.
Whether you're looking for a cherry picker forklift, small electric forklift, warehouse forklift, reach truck, or rough terrain forklift, NovaLift works with the industry's top brands. For more information, get in touch today to learn more about our forklifts, accessories, and repair services.
Also Read: Unconventional Uses Of Forklifts: Beyond The Warehouse
Published on