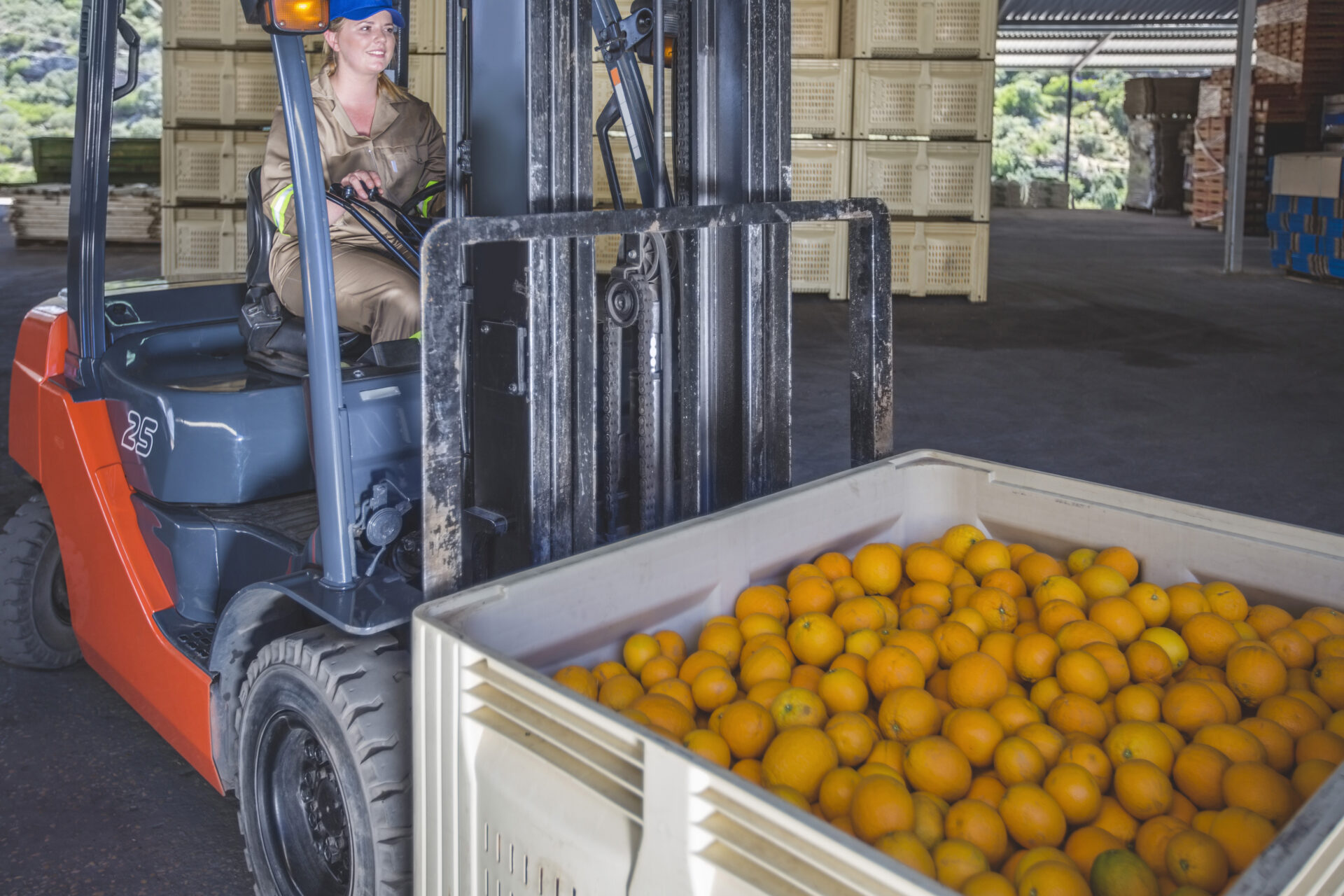 With a world population of roughly eight billion and growing, food manufacturers are constantly looking to optimize the production process. Businesses can increase their output efficiency by using material-handling equipment such as forklifts.
Forklifts are power-operated industrial vehicles used to lift and move heavy loads over short distances. Processing facilities rely on specialized forklifts for food-processing activities like packaging, storing, handling, and transporting.
By streamlining these processes, the forklifts boost productivity while cutting down on time wastage—a particular concern when dealing with perishable foods and beverages.
Today, we discuss the advantages of specialized forklifts for the food manufacturing industry.
Understanding Food-Processing Challenges
Modern-day industries face numerous challenges, with rising inflation, supply-chain shortages, and environmental sustainability concerns all complicating business matters. The food-processing industry, however, has a unique set of challenges due to safety and hygiene regulations.
Food-processing facilities must adhere to strict handling procedures to prevent cross-contamination and the spread of infectious pathogens (i.e. salmonella and E. coli). Daily cleaning and sanitation of processing equipment and surfaces is also essential to meet regulatory standards.
Moreover, perishable foods require temperature-controlled environments for processing and storage. A failure to comply with these standards can endanger public health and result in product recalls, fines, and lawsuits.
Specialized forklifts and other material-handling equipment are custom-built to meet the unique demands of food processors. It's not surprising that an increasing number of businesses are turning to these machines to fulfill warehousing needs.
The Advantages of Specialized Forklifts
Businesses that use automated equipment like forklifts rely more on machinery than people, thereby reducing the risk for human error. Thanks to technological innovation, specialized forklifts exist to improve the safety of the food and facility workers.
Reduced Product Damage
In manual-handling environments, employees are responsible for lifting and carrying goods across the floor. This brings the potential for product damages, including from dropped packages, improper stacking techniques, or carelessly wrapped pallets.
Specialized forklifts can greatly reduce the amount of damaged inventory by easing the physical strain on workers.
Compliance with Food Safety Regulations
Many food processing plants have cold storage rooms on site to preserve the quality of perishable foods. Forklifts with specialized protective features not only safeguard the vehicle from damage related to freezing temperatures, but also limit or eliminate workers' exposure to these extreme cold environments.
Other features allow the machines to withstand corrosive cleaning agents required to sanitize processing areas.
Streamlined Workflow and Layout Efficiency
Forklifts generally move a greater number of items faster and more safely than a worker could by hand. This makes for more efficient and effective operations in a food-processing space.
Some forklifts are also specifically designed to navigate narrow aisles or reach very high shelves in warehouses with compact layouts.
Improved Ergonomics
Though forklifts undoubtedly lighten a labourer's physical load, they can introduce new problems when ergonomics are neglected. Forklift operators are vulnerable to back and neck injuries due to sitting for prolonged periods in poorly designed machines.
Forklifts with design enhancements like rotating seats and improved suspension can reduce stress on the body. This decreases workplace injuries and absenteeism while raising productivity and work quality.
Read more on Common Health Risks And Preventive Measures For Forklift Operators here.
Types of Specialized Forklifts for Food Processing
The most commonly used forklifts for the food-processing industry are electric forklifts, reach trucks, and pallet trucks. Here's how each is used:
Electric Forklifts
Increasingly popular for their environmental benefits, electric forklifts are valuable for indoor food processors. In fact, the Global Food Safety Initiative (GFSI) highly recommends the use of electric forklifts in food handling and storage areas to prevent the contamination of food products.
They limit product and employee exposure to harmful gas emissions like nitrogen oxide and carbon monoxide.
Reach Trucks
Reach trucks are beneficial in smaller food distribution warehouses where they can maneuver tight aisles with precision. They're also able to lift and secure pallets into racks as high as 45 feet.
Related: Forklifts Vs. Reach Trucks: What Is The Difference?
Pallet Trucks
Pallet trucks are forklifts used to lift and move pallets. Pallets are flat wooden structures on which goods are stacked to support lifting. Within the food-processing industry, they are useful in food warehouses and grocery retailers. They further help load and unload large pallets of food products from transport vehicles.
Food Processing Forklift Attachments
These specialized vehicles also come equipped with custom forklift attachments for the food processing industry.
Single-Doubles Load Handlers
Also known as multiple load handlers, these attachments enable forklifts to handle two or more pallets at once. This is ideal for businesses with bulk orders of food items for processing that require speedy turnaround.
Rotators
With rotator attachments, forklift operators can rotate heavy loads 360 degrees. This makes it easier to move food products from one container to another.
Forward Bin Dumpers
Forward bin dumpers are similar to rotators but can hold even heavier loads. They also reduce clutter and waste by dumping the load away from the forklift, which comes in handy when loading foods like nuts and fruits.
Push-Pull Attachments
Push-pull attachments replace traditional wood pallets with slip sheets. A gripper jaw simply pulls the slip sheet and product load onto the platens and pushes them off at their intended destination. Slip sheets are more cost-effective and take up less storage space than pallets.
These attachments are most often used for encased foods, grains, and fruits and vegetables.
Training and Skill Development
Specialized forklifts may seem easy enough to operate, but they require training to manage safely and efficiently. Employers should prioritize training to make employees aware of the risks of operating these vehicles and to comply with federal or provincial regulations.
For example, workers need to know the maximum weight a forklift can support as well as how high it can lift loads. Another important factor to consider is the dimensions of the lift: operators have to allow enough space for navigating constricted spaces.
Other safety precautions include:
Maintaining proper posture while driving
Taking regular breaks that include walking and stretching exercises
Driving at lower speeds to counteract the effects of vibration on muscle and bone
Skills training for drivers will keep workers safe and lower overall costs due to accidents, injuries, and damaged goods.
Maximize Your Food-Processing Efficiency with NovaLift's Forklifts
Specialized forklifts are crucial to maximizing safety, efficiency, and output in the food-processing industry. NovaLift Equipment Inc. offers an extensive range of specialized forklifts and attachments to meet your food processing needs.
We also provide forklift training for crews in Toronto and across the GTA.
Contact us today to learn more about our material-handling products and services.
Published on